Stephanie Solywoda

Director

Stephanie double-majored in Russian Language and Politics at Smith College, MA before working at the Woodrow Wilson Institute in Washington DC and the UK Houses of Parliament. These experiences drove her back to academic life! She went on to earn both her M.Phil and D.Phil from Oxford. A former Max Hayward Fellow of Russian Culture at St. Antony's College, Oxford and current member of the Oxford history faculty, she has published on Russian religious philosophy and semiotics, including The Life and Work of
Semen L. Frank: A Study of Russian Religious Philosophy (Ibidem-Verlag 2008). She has taught a wide range of twentieth century history to Oxford undergraduates and graduate students. She lives in central Oxford and enjoys café culture, rowing, and Eliot-- her cat.

Student and Academic Services Administrator

Kimberly Marsh received her DPhil (PhD) in English Literature from the University of Oxford. Prior to that she wrote "Reading the Body in Dracula, The Strange Case of Dr Jekyll and Mr Hyde, and The Picture of Dorian Gray" and graduated with an MA in Victorian Literature from the University of Leeds having taken a BA (Hons) in English Literature from the National University of Singapore. There her honours project focused on the fluid representations of Victorian identity in Wilkie Collins' novels.
Her research interests include travel writing, Romantic and Victorian literature, the Gothic, colonialism, and the intersections between literature and the visual arts. She is currently working on transforming her DPhil thesis, "Paintings and Palanquins: The Language of Aesthetics and the Picturesque in Accounts of British Women's Travels in India from 1822 to 1846" into a monograph and intends to conduct a further research on travel writing in India during and after the Indian Mutiny.

Claudia Kahindi

Junior Dean

Claudia Kahindi (she, her, hers) recently completed her senior-status law degree (LLB) at the University of Oxford - Exeter college, as a Kenyan Rhodes Scholar. She did her undergraduate degree at Wesleyan University in Middletown - Connecticut, where she majored in Politics, Philosophy, and Economics (PPE) and minored in African Studies. Afterwards, she worked for Legal Outreach, a NYC-based non-profit that uses the law to help inner-city students to access elite colleges in America. Currently, she has a micro-internship for a biotech start up where she is the project lead in charge of generating the startup's legal documentation. She is also an Assistant for an Exeter College Summer Program (ECSP). Starting August, she will be a legal assistant for a Doughty Street Chambers Barrister. In the past, she has worked for the Rhodes Trust alongside a team of three interns to critically evaluate and document its legacy. She enjoys deejaying and cooking with friends.

Jack Whitehead

Assistant Junior Dean

Jack Whitehead is a current graduand of the Molecular and Cellular Biochemistry course, which he studied at Brasenose College, Oxford. In his master's work, Jack was investigating the structure of the human metapneumovirus (HMPV) nucleoprotein, which causes respiratory tract infections in infants, immunocompromised patients, and the elderly. Jack has a place on the Wellcome trust-funded DPhil in Cellular Structural Biology beginning in September 2021. Jack was a Kathleen Lavidge bursary holder in the summer of 2018 and studied at Stanford under the supervision of Prof. Robert Siegel. Jack is an avid cross-country runner and a keen linguist.

Ilya Afanasyev

Kemper Family Teaching Fellow

Ilya Afanasyev did his DPhil (PhD) in History at the University of Oxford, with a thesis on the construction of national categories in twelfth-century England. His broader research interests include the history and theory of nationhood and ethnicisation across medieval and modern periods. More recently, he has been publishing on the cultural and intellectual history of 'dynasty', as well as co-writing a book on the long history of tribute and capital. Before joining Stanford's Overseas Studies Programme at Oxford as a lecturer, he worked as a postdoctoral researcher at the Universities of Oxford and Birmingham and the Higher School of Economics, Moscow. In his teaching for Stanford, Ilya brings together his background in British history and his long-term interest in cultural studies.

Olivia Reilly

Lecturer

My doctoral research concerned the relationship between music and the poetry of Samuel Taylor Coleridge and has led to my current research into aural space and the concept of music in long 19th century poetry. The linking of music and morality in the period has led to my most recent work on ethics and literature, particularly in relation to literature and law, including human rights law. I am currently working on a joint, interdisciplinary article considering the relationship between the law and Coleridgean concepts of imagination. I have published in Romanticism and Paul Douglass and Frederick Burwick, eds. Romantic Era Songs (online).

Thomas Crook

Lecturer

Thomas is senior Treasury adviser and policy and strategy lead at a research unit in UK Parliament, where he also heads the economics team. He has previously worked in corporate intelligence, leading a Chinese language investigations team at KPMG in London, and has diplomatic experience from his time working at the EU's embassy in Beijing.
Thomas's doctoral research in engineering management at Cambridge's Institute for Manufacturing focuses on the complex and dynamic interaction between innovation and industrial systems, and he has previously completed MPhil research into open innovation systems at Oxford's Technology and Management Centre for Development.
Thomas has been lecturer in economic policy and tutor of business and innovation for Stanford, he is a fellow of the Royal Asiatic Society and a keen squash player.

Samuel Ritholtz

Lecturer

Samuel Ritholtz is retaining-fee lecturer at Somerville College and a doctoral candidate in the Refugee Studies Centre at the University of Oxford, where they study queer and trans experiences of conflict, crisis, and displacement. Sam's broader research interests includes political violence, forced migration, gender, sexuality, and epistemology. Outside of academia, Sam has worked on human rights and gender issues for a range of institutions, including the United Nations' Executive Office of the Secretary General as well as human rights organizations in Washington DC and Buenos Aires. Sam's work has been featured in Migration Studies, Politics & Gender, Slate, the New Humanitarian, and Newsweek and the Daily Beast's Women in the World Foundation. Originally from New York, Sam has an MSc in Refugee and Forced Migration Studies from the University of Oxford and a BSc in International Agriculture and Rural Development from Cornell University.

Maggie McGrath

Lecturer

Maggie McGrath is a doctoral candidate at the Oxford Internet Institute focusing on artificial intelligence (AI) and the design process. For her DPhil, Maggie is studying the relationship between the design of algorithmic AI systems and the role of visual search in the practice of creative ideation. Maggie's research questions emerged from her practical experience as a knitwear designer in New York, where she noticed visual search practices increasingly relied on algorithmic systems. Maggie is a co-founder of AI Yesterday, a digital zine and multi-channel platform that engages with critical histories of AI, allowing academics and industry practitioners to experiment outside the confines of their disciplines. Maggie also worked on Google's Webby-award winning AI to Zed project, providing a simple, dynamic explainer of AI. Maggie holds a Master of Arts in History of Design from the Royal College of Art and Victoria & Albert Museum. Her thesis explored the introduction of digital tools to the design process, using American furniture manufacturer Herman Miller as a case study. Maggie received her Bachelor of Arts in Psychology from the University of Michigan.
Our Team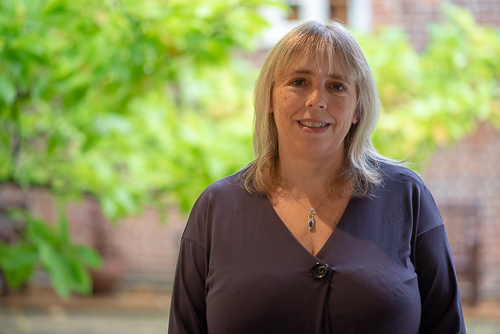 Mrs Sharon Scott
Bursar
I joined Stanford University in 2012 after many years working for multinational corporate organisations. Principally, I am responsible for all the financial matters relating to the Stanford University in Oxford Centre. I also manage the relationships between the Centre and our local neighbours.
You can reach me at: sharon2@stanford.edu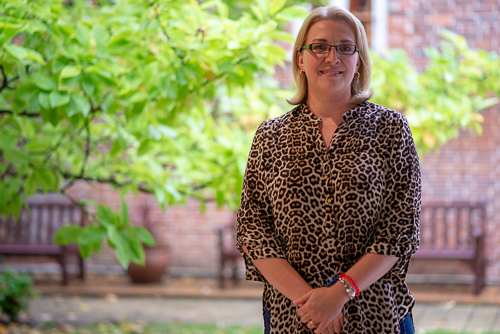 Mrs Autumn Tull
Facilities Manager
As Facilities Manager for the Stanford programme in Oxford, my primary responsibility is to ensure the proper maintenance of the historic building our program calls "home." From health and safety to event coordination and student services, I partner with the centre's maintenance coordinator, as well as numerous vendors, to ensure the Stanford House runs smoothly on a day-to-day basis. I also oversee the administration of the Kathleen Lavidge Bursary offered to first year students in Stanford's partner colleges in Oxford University.
You can reach me at: autumn.tull@stanford.edu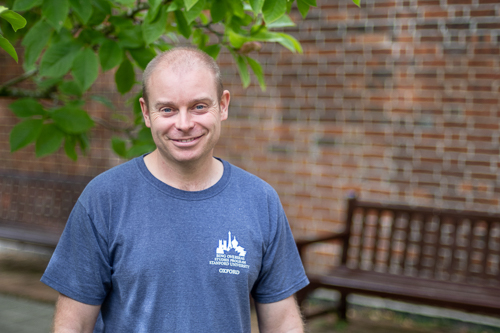 Mr Tom Cooper
Maintenance Coordinator
I am the Maintenance Coordinator for Stanford University's Montag Centre for Overseas Study. I look after the buildings and grounds at Stanford House while liaising with local vendors and traders to meet the centre's needs. I work closely with the Facilities Manager and help set up for events at the house, and look after the IT/AV needs for the visiting lecturers.
You can reach me at: tcooper1@stanford.edu