Stephanie Solywoda

Director

Stephanie double-majored in Russian Language and Politics at Smith College, MA before working at the Woodrow Wilson Institute in Washington DC and the UK Houses of Parliament. These experiences drove her back to academic life! She went on to earn both her M.Phil and D.Phil from Oxford. A former Max Hayward Fellow of Russian Culture at St. Antony's College, Oxford and current member of the Oxford history faculty, she has published on Russian religious philosophy and semiotics, including The Life and Work of
Semen L. Frank: A Study of Russian Religious Philosophy (Ibidem-Verlag 2008). She has taught a wide range of twentieth century history to Oxford undergraduates and graduate students. She lives in central Oxford and enjoys café culture, rowing, and Eliot-- her cat.

Student and Academic Services Administrator

Kimberly Marsh received her DPhil (PhD) in English Literature from the University of Oxford. Prior to that she wrote "Reading the Body in Dracula, The Strange Case of Dr Jekyll and Mr Hyde, and The Picture of Dorian Gray" and graduated with an MA in Victorian Literature from the University of Leeds having taken a BA (Hons) in English Literature from the National University of Singapore. There her honours project focused on the fluid representations of Victorian identity in Wilkie Collins' novels.
Her research interests include travel writing, Romantic and Victorian literature, the Gothic, colonialism, and the intersections between literature and the visual arts. She is currently working on transforming her DPhil thesis, "Paintings and Palanquins: The Language of Aesthetics and the Picturesque in Accounts of British Women's Travels in India from 1822 to 1846" into a monograph and intends to conduct a further research on travel writing in India during and after the Indian Mutiny.

Ethan Friederich

Junior Dean

My doctoral research focuses on the history of malaria within the province of Assam in British India. Over the roughly seventy years of Assam's existence as an independent province, and its extended history under colonial rule, no disease claimed as many lives as the vector-borne parasite. In some of the worst years, roughly 30% of the population suffered from malaria and 2% perished. As a disease, malaria is intimately connected to many different facets of life, extending far beyond medical research labs and offices of public health. While firmly rooted in the discipline of medical history, my research also heavily involves colonial, ecological, and even entomological history. Tensions plagued the province of Assam; between tea plantation owners (the dominant economy) and public health officials, between indigenous cultures and western colonists, and between the inhabitants and the environment itself. While these forces shaped the social and physical landscape of Assam, each maintained both direct and indirect relationships with the pathways of malaria. The purpose of my research is to bring the story of malaria in Assam to the forefront of the province's history, to highlight a pivotal actor that has largely been underemphasized and understudied.

Laura Stewart

Junior Dean

My Doctoral research assesses national elections outcomes in the UK, USA, France and South Africa (1990-2017), to identify patterns in voter behavior and their associated causes. It is specifically concerned with explaining increases in right of center voting outcomes during national elections based on three variables; (1) population demographics i.e. differential health outcomes and mortality (2) privatization (capital in neoliberal markets) and; (3) trade. The research is primarily quantitative; using a positivist lens, descriptive statistics and multivariate analysis to infer causes of voter behaviour. I have published through the Woodrow Wilson Center for Scholars, The International Journal of Sustainability Policy and Practice and Dialogue (King's College London - School of Political Science). This research is supported by a grant from the Open Society Foundations (Civil Society Scholar Award) and the Eldred Scholarship at Linacre College, University of Oxford.

Sabine Parrish

Lecturer

Sabine Parrish is a postdoctoral researcher at the Unit for Biocultural Variation and Obesity (UBVO), a research unit of the School of Anthropology and Museum Ethnography at the University of Oxford. Her postdoctoral project on concealed pregnancy and witchcraft is part of a wider Medical Research Council-funded study on culturally appropriate interventions to combat gestational diabetes in The Gambia. Alongside this work she is part of a UBVO team looking at changes in food provisioning, eating habits, and physical activity during England's Covid-19 pandemic lockdown measures and associated implications for long-term health outcomes.

Olivia Reilly

Lecturer

My doctoral research concerned the relationship between music and the poetry of Samuel Taylor Coleridge and has led to my current research into aural space and the concept of music in long 19th century poetry. The linking of music and morality in the period has led to my most recent work on ethics and literature, particularly in relation to literature and law, including human rights law. I am currently working on a joint, interdisciplinary article considering the relationship between the law and Coleridgean concepts of imagination. I have published in Romanticism and Paul Douglass and Frederick Burwick, eds. Romantic Era Songs (online).
Our Team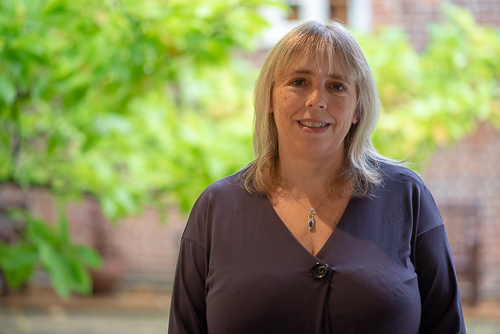 Mrs Sharon Scott
Bursar
I joined Stanford University in 2012 after many years working for multinational corporate organisations. Principally, I am responsible for all the financial matters relating to the Stanford University in Oxford Centre. I also manage the relationships between the Centre and our local neighbours.
You can reach me at: sharon2@stanford.edu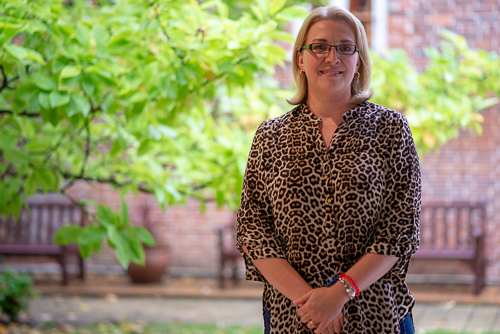 Mrs Autumn Tull
Facilities Manager
As Facilities Manager for the Stanford programme in Oxford, my primary responsibility is to ensure the proper maintenance of the historic building our program calls "home." From health and safety to event coordination and student services, I partner with the centre's maintenance coordinator, as well as numerous vendors, to ensure the Stanford House runs smoothly on a day-to-day basis. I also oversee the administration of the Kathleen Lavidge Bursary offered to first year students in Stanford's partner colleges in Oxford University.
You can reach me at: autumn.tull@stanford.edu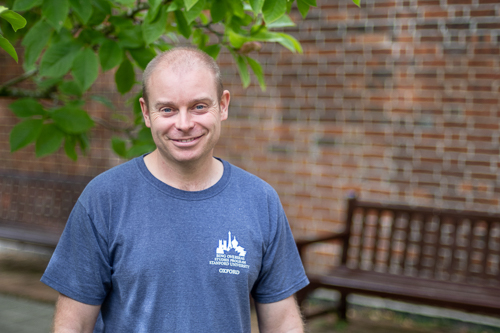 Mr Tom Cooper
Maintenance Coordinator
I am the Maintenance Coordinator for Stanford University's Montag Centre for Overseas Study. I look after the buildings and grounds at Stanford House while liaising with local vendors and traders to meet the centre's needs. I work closely with the Facilities Manager and help set up for events at the house, and look after the IT/AV needs for the visiting lecturers.
You can reach me at: tcooper1@stanford.edu